---
---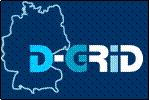 To bring the vision of e-Science in Germany to reality, the creation of a robust, flexible and sustainable Grid infrastructure is needed, which consists of network, computing and storage components as well as of Grid services and middleware layers. To reach this goal, a systematic development and organisation of a general middleware and network infrastructure is required. This infrastructure will allow the provision and demanding of Grid resources (i.e. computing power, data, information, programs, etc.) and its dynamic allocation. This infrastructure will build the basis for new community specific applications and will enable new inter disciplinary collaborations to solve scientific problems. On top of this infrastructure new kind of "virtual organisations" will be dynamically created and will benefit from the general availability of services, resources and infrastructures.
The first D-Grid integration project (DGI-1) will create a general purpose Grid infrastructure by combining existing activities in an international context and by supporting and coordinating the community projects of the D-Grid initiative.
Part of DGI-1 is the conception of adequate tools, schemas and processes for the management of Virtual Organisations.
More information
For more information see http://www.d-grid.de/index.php?id=86.
Partners
In this project, the MNM-Team cooperates with the following partners:
Fraunhofer Institut SCAI, St. Augustin
Forschungszentrum Karlsruhe
Duration
Beginning: 2005
Finished by: 2007
Contact
For further information please contact projects@nm.ifi.lmu.de.
---